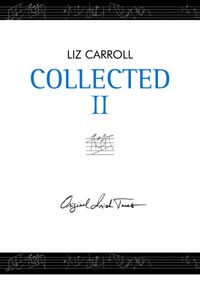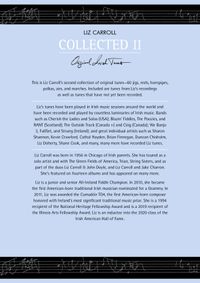 Latest Tune Book, Collected II!
"I hope these tunes are enjoyable for you to learn and play. I hope they provide a challenge. I hope you try writing your own tunes! In the face of a music that's all about playing together, I'll say to you that it's worth it, satisfying beyond measure, to find your own voice—whether that's in learning a new tune, varying an old tune, or writing your own."
Liz Carroll
---
Click here to download a PDF of tune names!
---
Collected II
The new collection has sixty jigs, reels, marches, hornpipes, and strathspeys—all the new tunes Liz Carroll has written since her first tune book, 2010's Collected. Favorites from Liz's albums—On the Offbeat; Ireland: Crossroads of Art and Design, 1690-1840 - The Music; the String Sisters' Between Wind and Water; and 2019's duet album with Jake Charron, Half Day Road—along with many unrecorded tunes, photos, tune tales, and snippets of original manuscripts.
Some of Liz's favorite tunes are here, including:
"Barbra Streisand's Trip to Saginaw," from when Liz stayed at the same inn where the famous singer stayed.
"Never Far Away," written for Liz's father.
 "Rose and Kathleen's Slip Jig," from the Ireland: Crossroads album, music from an exhibition of Irish art and design at the Art Institute of Chicago.
"Save the Ham," which celebrates Liz's heroics saving a piglet at a teaching week in North Carolina.
And so much more!
---
Collected II - Order the Book
Collected II - Order the Download
This is a digital version of Liz's second book of compositions, "Collected II."
If you have Adobe Reader, you can save this version of "Collected" to your desktop, tablet or smartphone. If you need Adobe, click on the image at the bottom of this page.
You can also print all or part of the book, as you please. Please remember this is copyrighted work; please use for your own pleasure - and thanks!
© 2020 Liz Carroll
All rights reserved. No part of this book may be reproduced or transmitted in any form by any means, electronic or mechanical, without permission in writing from the publisher.
Read more…
close
Some of the recorded music found in Collected II
---
Liz's first book of tunes, Collected, is available as a digital download below. Thanks!
---