Photo by Rebecca Lomnicky

Liz Carroll is an Irish fiddler, composer, and recording artist. She is the first Irish-American musician to be nominated for a Grammy, and the first American-born composer honored with the Cumadóir TG4, Ireland's most significant traditional music prize. Liz has toured as a solo artist and with The Green Fields of America, Trian, as the duo Liz Carroll & John Doyle, String Sisters, and now as a duo with guitarist and pianist Jake Charron. She is featured on fourteen albums and has appeared on many more. Her duet album with Jake Charron, Half Day Road, released in February, 2019. Liz was born in Chicago of Irish parents, and still lives just outside her hometown.
The Half Day Road reviews are here and here are some highlights!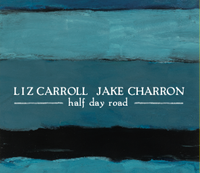 "It's like some magnificent sunset at the end of an immensely satisfying day."
"This is a gem of an album with many great tunes which will undoubtedly last the test of time and will propagate themselves throughout the tradition. If you're a fiddle fan, buy it – you won't regret it!"
"But the thing that's most striking about this album is the sheer virtuosity of the musicianship... It's just breathtaking."
"What is astonishing is the fact that Carroll's songwriting and playing continue to improve. Her latest recording, Half Day Road, a collaboration with Canadian pianist/guitarist Jake Charron, shows her at the peak of her talents."
"a musical masterpiece that will find us listening to, being in awe of, and replaying for years to come... Half Day Road is special; it is a treasure."
"... stunningly well played... This CD is definitely a candidate for my 2019 Top Ten."
- 12/28/2019 announcement, "Alex Monaghan's Traditional Top Ten 2019"