Liz as a child, with her grandfather Tom Cahill on
          the fiddle and her father Kevin Carroll on the accordion.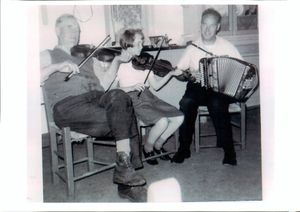 Liz Carroll, the Irish fiddler and composer, has been thinking lately of the path her musical life has taken. It's been a road rich in traveling companions, with inspiration from stops along the way. And now, with Half Day Road, her duet album with guitarist and pianist Jake Charron, just released in 2019, and with a new book of tunes, Collected II, published in March of 2020, there are new horizons ahead.
Since she was 18, when she astounded the Celtic music world by winning the Senior All-Ireland Championship, Liz and her fiddle have been amazing audiences around the globe. She has been honored with many accolades, including a nomination for a 2010 Grammy, with John Doyle, for their duet album, Double Play. In April of 2011, Liz was awarded the Cumadóir TG4, the first American-born composer honored with Ireland's most significant traditional music prize.

Liz's recordings are in the majority her own compositions, and they have given her a stature equal to that of her playing. When you listen to a Liz album, you're hearing the music of a composer celebrated for invigorating the traditional styles of Irish music. Her tunes have entered into the repertoire of Irish and Celtic performers throughout the world.
2016 saw the release of a new collaborative album, produced as companion music to an exhibition at the Art Institute of Chicago - "Ireland: Crossroads of Art and Design, 1690-1840 – The Music." A mix of period music and new compositions by Liz, the other artists include Liz Knowles, Kieran O'Hare, Tríona Ní Dhomhnaill, and Catriona McKay. Daniel Neely of the Irish Echo praised it, saying:
"It is a breathtaking companion piece... a spectacular album. It features a beautiful mixture of old and new music from one of the most elite gatherings of musicians."
Liz's 2013 solo recording, On the Offbeat, is another collection of original compositions - of the 24 tunes on the album, 23 are hers. Produced by Seamus Egan of Solas, Offbeat has been greatly praised, including by Siobhan Long of The Irish Times:
"

★★★★★ "... [a] magnificent collection of original, self-composed tunes. ... a wide arc of a celebration of quirky, non-conformist rhythms, which revel as much in the powder-keg unpredictability of the Balkans as they do in the buoyant agility of the Sligo style."
- read the full review here
Liz has published two books of her compositions. In 2010. Collected compiled the music that she began composing when just a child. Now in its second printing, Collected is what Liz's fans and fellow musicians have been clamoring for - for years. And now in 2020, come the tunes composed since - 60 new jigs, reels, strathspeys and more!
It's these tunes, as well as Liz's vital performances on concert stages, television and radio, that have established her as one of traditional music's most sought after performers. Neil Tesser of the Chicago Reader marvels that "her quicksilver lines can captivate violin admirers way beyond the bounds of Hibernia." P.J. Curtis of the Irish American says that Liz "conjures up a dizzying mixture of the sweetest tones, the fastest runs, and the most dazzling display of musicianship imaginable." One of Liz's proudest concert moments was at the 1st American Congress of the Violin, hosted by Yehudi Menuhin.

In 1994, the National Endowment for the Arts awarded Liz a National Heritage Fellowship for her great influence on Irish music in America, as a performer and a composer. First Lady Hillary Clinton presented the award which bestows national recognition on artists of international stature.
Liz was born in Chicago, Illinois, of Irish parents, and is proud that she was awarded a fellowship in 2019 by the State of Illinois in Ethnic and Folk Arts.
Liz Carroll is an Irish fiddler, composer, and recording artist. She is the first Irish-American musician to be nominated for a Grammy, and the first American-born composer honored with the Cumadóir TG4, Ireland's most significant traditional music prize. She has toured as a solo artist and with The Green Fields of America, the group Trian, as the duo Liz Carroll & John Doyle, String Sisters, and now as a duo with guitarist and pianist Jake Charron. Featured on fourteen albums and appearing on many more, her duet album with Jake Charron, Half Day Road, was released in February of 2019.
She will soon publish a new book of recent compositions following the sold-out success of Collected - Original Irish Tunes in 2010.
Liz was born in Chicago, Illinois, of Irish parents, and is proud that she was recently presented with a 2019 Artist Fellowship Award by the State of Illinois in Ethnic and Folk Arts.
Liz began her musical studies at Visitation Grade School on Chicago's Southside. She began violin lessons when the piano her parents had rented couldn't make it to the second floor of the home on Garfield Boulevard. As the truck pulled away, and over Liz's tears, her parents agreed that Liz should take up the fiddle.

Liz's first teacher was Sister Francine, who would often admonish Liz after a lesson, "Now, who worked harder, me or you?" Actually, Sister Francine had an inspiring love for music, and recognized a kindred spirit in Liz.

When Sister Francine transferred, Liz continued classical training with Herbert Silberstein, a great violinist and conductor in the Chicago area. But it was in the latter stages of her time in grade school that Liz recognized that she'd had enough of the classics, and told her parents "I don't want you to waste your money."

From then on, Liz learned at the literal feet of the great Chicago traditional musicians, especially those of the Chicago Irish Musicians Association. Phil Durkin, for instance, formally taught Liz fiddle for about a year's time just before she became a teenager. From then on, Liz learned the tunes, and tested her own compositions, at the local seisúns held at local pubs, as well as in the basement of Old St. Patrick's Church in Chicago's West Loop. The list of these musicians is exhaustive, but Liz's key influences include the fiddler Johnny McGreevy, piper Joe Shannon, the Galway accordion player Joe Cooley, and flautists Seamus Cooley and Kevin Henry.

Liz also has been influenced by those who grew up alongside her in the music, including Jimmy Keane, Marty Fahey, Johnny Harling, and Michael Flatley, among many others who either grew up in Chicago or who came to the city and found a nurturing community of musicians.
 
Liz's major recordings include: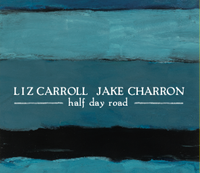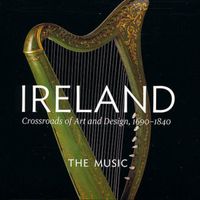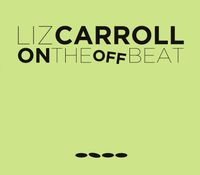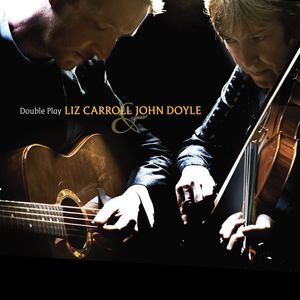 Half Day Road, Liz Carroll and Jake Charron, self-released, 2019
Between Wind and Water, String Sisters (Liz Carroll, Emma Härdelin, Liz Knowles, Annbjørg Lien, Catriona MacDonald, Maireád Ní Mhaonaigh), self-released 2018
Ireland: Crossroads of Art and Design, 1690-1840 - The Music, O'Brien International, 2015
On the Offbeat, Liz Carroll, self-released, 2013
* Double Play, Liz Carroll & John Doyle, Compass Records, 2009
Live, String Sisters, Compass Records, 2007
In Play, Liz Carroll & John Doyle, Compass Records, 2005
Lake Effect, Liz Carroll, Green Linnet, 2002
Lost in the Loop, Liz Carroll, Green Linnet, 2000
Trian II, Trian (Liz Carroll, Billy McComiskey, Dáithí Sproule), Green Linnet, 1995
Trian, Trian (Liz Carroll, Billy McComiskey, Dáithí Sproule), Flying Fish Records, 1992
Liz Carroll with Dáithí Sproule, Liz Carroll, Green Linnet, 1988
A Friend Indeed, Liz Carroll, Shanachie, 1979
Kiss Me Kate, Liz Carroll and Tommy Maguire, Shanachie, 1978
* GRAMMY® nominee